I bought a pile of used books for myself for Christmas, and I'm finally starting the third one in the stack. I'm a slow reader because (as I've said here before) I only read before nodding off into sleepyland ... so, about 10 - 15 minutes per day.
First I read: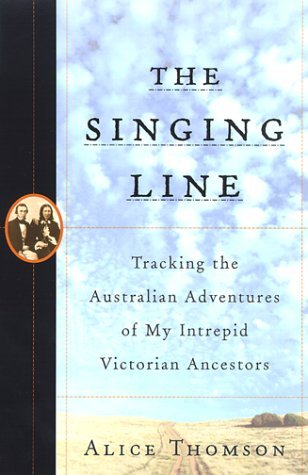 And I'm glad I did. The book presents an interesting topic (the erecting of the first telegraph line across Australia with connection to England) and interesting people (the man who did it and his wife). But the writer (a descendant) and her husband dominate the book, which pivots back and forth from the past to the present as the writer retraces her forefather's steps. I found the history interesting. I found the present somehow insipid. Not quite boring but almost. I found myself asking, "Yes, I understand why your ancestor is an unusual and interesting man, but I fail to see how those qualities apply to you?" Is that rude to admit? I'm sure Alice Thomson is as interesting as the next person, but then again ... the next person, and most people, are not good writers and their self-focused novels are not worth reading. I finished it, at last.
Then I read:
And I expected it to be the best of my Christmas book selections! It's British. It's WWII. It's about women and the Women's Institutes. What's not to like? I'm sorry to say, again it was the writer's voice, her style, her telling of her tale. It droned on and on. You know how people's voices are, yes? Two people can read the exact same text from a page, and one of them will enthrall you and the other will bore you to tears. Some people have voices and inflections and tones that are honey to our ears. We don't care what they say as long as they keep talking. Others hold you captive, making you feel obligated to hear to the end of their dreary account. This writer isn't quite that bad, but again, by the end of the book, I was just so glad to be
done
.
If you've watched the PBS television show, they are nothing the same. The show is fiction and story; the book is facts. The show is drama and relationships; the book is data. Small parts of it were interesting, but there's only so much about salvaging metal and singing "Jerusalem" and picking the hedgerows that one needs to hear.
However. However! There are writers who could tell me about salvaging and singing anthems and picking hedgerows for hours on end and I would beg for more,
because I adore their voices
. What gives one writer a voice to die for, and another a voice that inflicts sleep? I think of a good writer as a friend. His voice is a pleasure. His humor appeals to me. If he writes fiction, I adore his characters and plot. If he writes non-fiction, I guffaw at his life events. But mostly, it's his style that appeals -- his sentences, his vocabulary, his lack of pretense, his obvious comfort in his skill. Never a word too many. Never a fun twist omitted. An adept writer makes it seem easy, like Mary Lou Retton did on the vault. If that comparison doesn't ring a bell, you may be too young for my kind of books anyway, haha!
So, book #3:
This wasn't my first pick at Christmas. I chose it as an "extra" book. It seemed light-hearted, and what's not to love about rural Vermont? (Is any of Vermont not rural?)
I highly recommend this book. I knew as soon as I read the first two pages that I would love it -- and you can't know you'll love the characters or the setting or the plot in just a page or two. But you can know the writer's style immediately! Bohjalian's style is easy, conversational, skilled and elegant without even seeming to try. He writes novels too, but this book is a collection of non-fiction pieces published first in a newspaper. I only read the fly jacket account of how he and his wife fled NYC after being cab-napped to know it was my kind of humor. They remind me a bit of Albert and Gabor in
Green Acres
. I'm not far into the book and already he has forgotten where his septic tank is located ... three times!
I have quite a stack of books left, and I won't finish them by year's end. Plus, my mother is sending one highly recommended via Philip to the wedding. Her suggestions are always better than the ones I choose for myself.
Oh -- two random photos:
Philip sent Adam two of the above bowls for baking. They are called bannetons. They're more like baskets than bowls. Made of rattan, they provide structure to the rising loaf. They rattan is floured well and turns the dough out gently without sticking. Adam is perfecting his banneton skills.
Below, I want to show off my latest Salvation Army store find: a Vera Bradley purse! I happily retired my black winter purse, replacing it with this bright, happy summer cotton affair, and it is almost brand new!
Cost? $1.50. Yippeeee!!